Schedule Pickup & Delivery
We can pick up and deliver to your home, business, or one of our numerous locker locations.
Schedule a Pickup
Find a Location
We have locations throughout Houston and Austin.
Find the one nearest you.
Tide Cleaners Presents A BEAR-y Happy Holiday
Updated 10/5/22
Tide Cleaners is an official Holiday Hero sponsor and donation drop-off in the Houston area for BEAR, a resource for CPS. You can help Tide Cleaners fulfill the holiday wishes for over 19,000 abused and neglected children this Christmas by donating a gift today! Tide Cleaners will be accepting gifts starting November 1st through December 16th at all Houston area locations.
Many children who have experienced abuse and neglect have never known the thrill and anticipation of the holiday season and the happiness that Christmas morning can bring. BEAR fulfills the wishes of these children through BEARing Gifts by providing brand-new gifts to children under the care of CPS. Together we can make a difference for many children.
To learn more about the BEARing Gifts Program click, here.

BEAR's greatest need is gifts and toys for teens and children between the ages of 7-12. Below is the list of the most popular gifts requested by age.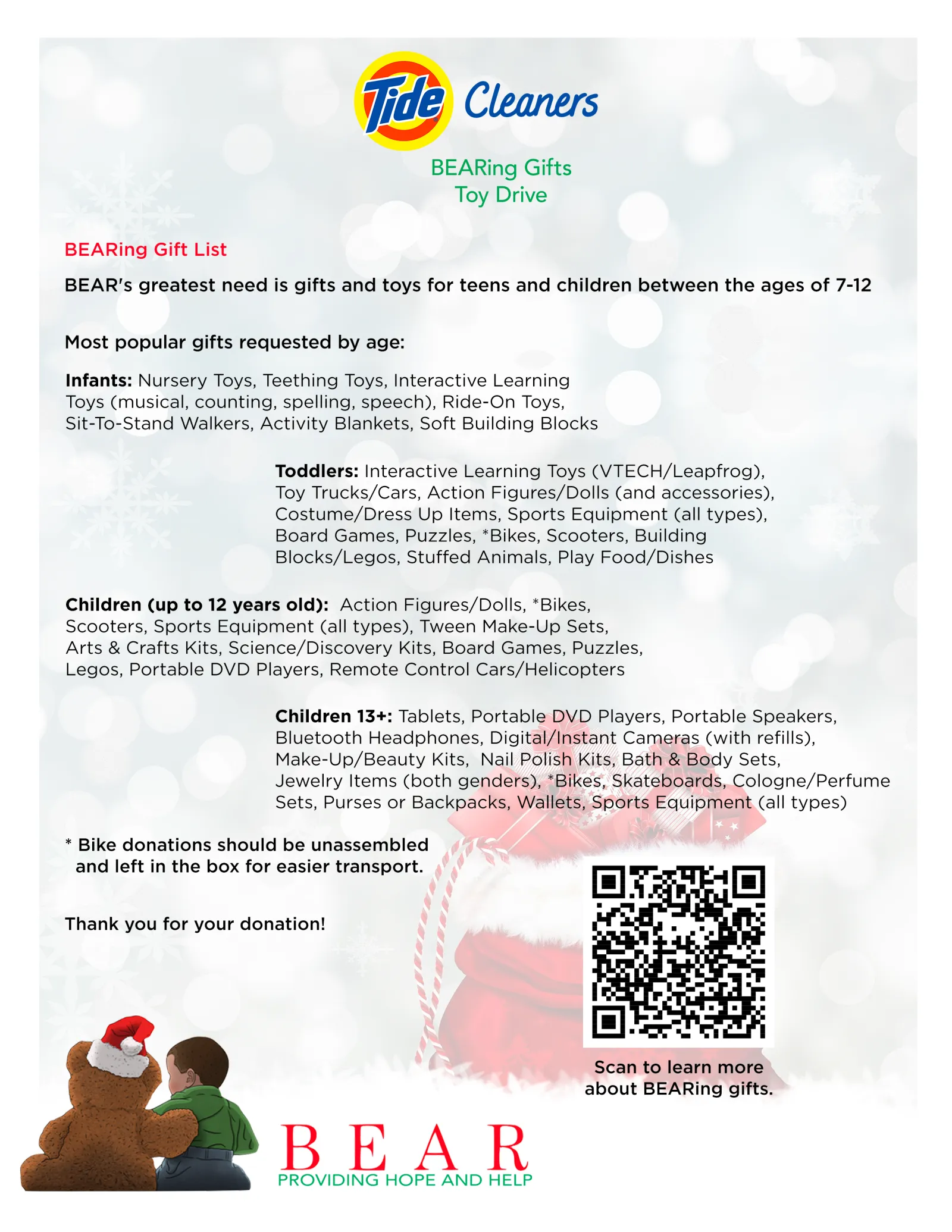 Tide Cleaners Prom Dress Drive

March 1-31 (Annually)
Tide Cleaners Begins Prom Dress Gown Collection and Plays Fairy Godmother to Young Ladies.
It's Prom Season, which means it's time to donate a dress and any formal accessories such as shoes, jewelry, wraps, and even bags.
Tide Cleaners is starting its seventh annual Prom Dress Drive benefiting The Giving Gown Foundation. All through March, Houston area Tide Cleaners' locations accept donations of prom dresses and accessories. The gowns collected are cleaned free of charge and subsequently delivered to The Giving Gown Foundation, a nonprofit community service organization that collects donations of new and like-new formal gowns and accessories.
Nearly 800 gowns were donated during TC's first prom dress drive in 2015. In 2016, they collected, cleaned, and donated 1,800 dresses plus accessories. Due to the program's popularity, Mike Nesbit, CEO of Edit TX LLC Tide Cleaners, decided to accept gowns all year long. This year, over 1,500 gowns have been collected and cleaned. The gowns collected this year will be donated to The Giving Gown Foundation, For more information visit givinggown.org.