Quality. Convenience. Innovation

More about Tide Dry Cleaners
Schedule Pickup & Delivery
We can pick up and deliver to your home, business, or one of our numerous locker locations.
Schedule a Pickup
Find a Location
We have locations throughout Houston and Austin.
Find the one nearest you.
Tide Cleaners — The Best Dry Cleaners in Houston & Austin

Houston & Austins Best Dry Cleaners

Tide Cleaners — The Best Dry Cleaners in Houston & Austin



Quality. Convenience. Innovation.


Quality starts with attention to detail. From remembering your personal preferences to replacing broken buttons, we think about the little things so you don't have to.

Convenience means giving you options. Pickup and delivery services and convenient neighborhood locations make dry cleaning simpler and easier than ever before (certain limitations apply: delivery service may not be available in all areas).

Innovation is what sets us apart. State-of-the-art facilities and equipment create a dry cleaning experience that's better for you and better for the environment.

We stand behind what we do. Our service guarantee means it's done right, on time, or it's on us. This is our guarantee to our guests!

Over the last 40 years, under several different company names, the same locally owned and operated leadership team has been providing quality and service to the great guests of Texas. Now with Tide as our franchising partner we have enhanced our cleaning capabilities and improved our guest experience.
128321242.06176

Garments Cleaned

28051190.450703

Deliveries Made

698175.47396174

New Guests Served
Guaranteed
Done Right...On Time...Or It's FREE!
Your satisfaction is the highest priority at Tide Cleaners and we look forward to providing world class dry cleaning and laundry services.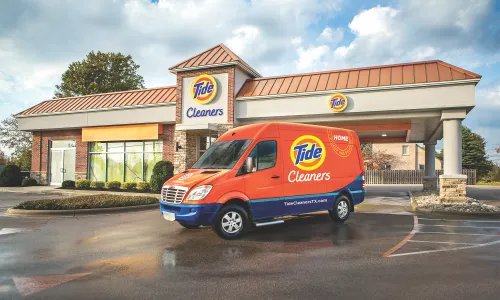 The Dry Cleaner You Deserve
Tide Cleaners is proud to provide YOU with the type of Dry Cleaner in Houston and Austin YOU deserve!

We literally will go the extra mile to deliver your clothes to your home or office!

What's more, we use a cleaning process that is green and uses no harsh chemicals; your clothes will never have that traditional dry cleaning smell.
Our promise to you — we will consistently deliver service, quality, and convenience, and if we don't…
It's Done Right… On Time… Or It's Free!